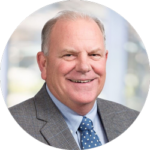 Scott Hein
President & Founder
In his role as President, Scott directs and oversees the development, quality and delivery of ROI's consulting services as well as ROI's overall operations. He keeps a constant watch on the quality of our services and continuing development of our team.
As one of the founders of ROI, Scott is dedicated to delivering the highest quality services to ROI's clients. ROI was started over 20 years ago with the continued vision of quality deliverables, teamwork and value. Over those 20 years, Scott has led ROI in developing a culture of caring for one another that defines how ROI operate daily.
Scott possesses a unique combination of operational process and technical skills gained while working for an acute care provider and large IT products and services companies (McKesson and HIE). His experience in the healthcare provider space goes back to serving as a radiology assistant while attending school. It was that experience that provided him the first-hand knowledge of behind the scenes workings and the interrelationships and co-dependencies of all of the departments in a hospital.
Scott then parlayed that experience into support, implementation and project management roles at McKesson and software development and project director roles at HIE.
Scott was awarded his bachelor of science degree from the University of Florida and holds a PMP certification. Scott lives in the Atlanta area and loves spending time with his four children and two adorable grandchildren.