March 19, 2019 / Atlanta, GA – It is with heartfelt gratitude and admiration that we announce the upcoming retirement of our phenomenal executives, Kathy London, Founding Partner & CFO and Jim Jancik, President and Managing Partner.
Effective April 1st, 2019, both Jim and Kathy will transition out of their current roles to become Advisory Consultants for ROI.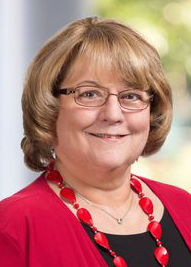 In 1999, Kathy London's passion for a no-drama culture of project management professionals materialized into ROI Healthcare Solutions. With 20 years of corporate consulting background in healthcare and finance, Kathy had been exposed to it all. She understood how to deliver with quality and along with three other partners, created an environment that nurtured high performance without the ego. In addition to Kathy's deep finance and operational expertise, she has earned the respect and adoration of the entire ROI team, which has grown from four to over 100 people over the years. ROI is both saddened by the void created by Kathy's transition and so elated that she is able to enjoy life reaping the rewards of the blood, sweat, and tears that she has poured into this business. Effective April 1st, Kathy's successor in finance will be Jimmy Haddad, who has been a part of our ERP Practice for several years. Please join us in acknowledging 20 years of devotion from Kathy London and the elevation of Jimmy Haddad as our VP of Finance.
"When ROI was initially created, it was very important to myself and the other partners to create an environment where people could do what they were passionate about, without an ego-fueled corporate bureaucracy. We wanted to build a strong foundation of people who lifted each other up, making one another better both personally and professionally. We began to attract those who shared our values, were at the top of their game, and had strength of character. Taking a step back now, I could not be prouder of the ROI family today. As I approach retirement, I am 100% confident that the timing is perfect. The infrastructure, leadership, team members, and growth trajectory are exactly where they should be. Just as two draft horses can pull triple the weight of one, the ROI team can accomplish more together than any single person. ROI is not just Kathy or Jim or any one individual. ROI is a collection of valuable strengths, skillsets, attitudes, and team players who make a positive difference every day. I am proud of what we have accomplished together over the past 20 years and am equally excited about how many clients and team members will be better off working with ROI over the next 20 years."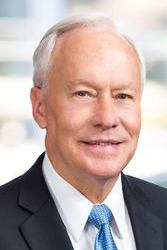 The second half of this announcement pertains to our admirable President and Managing Partner, Jim Jancik. After his 30 years of leadership with several large organizations including IBM, HBO/McKesson, and Ernst & Young, Jim joined ROI over 10 years ago to expand our go-to-market strategy and capitalize on the thriving ERP and application support markets in healthcare. Jim has led ROI thoughtfully, strategically, and pragmatically as a key driver of our success and growth. Jim has consistently demonstrated humility, a caring attitude, high quality performance, and true leadership across our company. While Jim will be deeply missed by every one of our team members, he has put in the time and attention to establish a thriving business and organizational platform with a great future ahead.
"It has been both a joy and a privilege to work with such an outstanding team at ROI. I am honored to have been a part of this special place where our focused purpose, passion and cultural values set us apart! I will continue to root for the ROI team to shine in the healthcare industry. The quality and experience they possess will drive continued growth and success going forward."
Jim's role will be succeeded by Scott Hein, Co-founding Partner, to assume the role of Managing Partner and Jason Berry, to assume the role of President. Both Scott and Jason have been critical leaders at ROI for years and are committed to carrying the torch forward as Jim approaches his retirement.
While we all applaud Jim and Kathy as they prepare for their next chapters, ROI's structure, business model, culture, and expertise remain strong. The demand for our services is higher than ever. We continue to stay true to our foundation of strong culture, deep expertise, passion, teamwork, and value.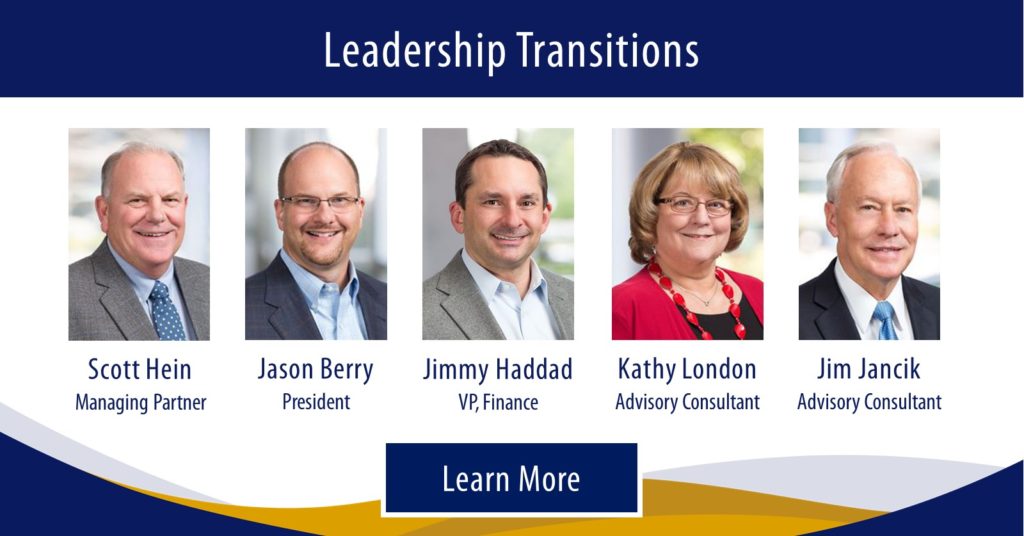 About ROI Healthcare Solutions
ROI Healthcare Solutions is healthcare's trusted IT Services Partner, founded in 1999. We save clients time and money, creating clinical, operational, and financial excellence through ERP and EHR initiatives. ROI offers industry-centric project management, consulting, implementation. optimization, support, and staffing services. Our leadership is committed to delivering quality services with highly engaged team members to clients who appreciate long-term partnerships. We are recognized by both Inc 5000 as a fast-growing private company and Modern Healthcare as a Best Place to Work in Healthcare.
Our Infor ERP Practice
ROI is a CloudSuite specialized and Birst Enabled Infor Alliance Partner and KLAS Category Leader (Business Solutions Implementation Services) that works with healthcare providers to reduce costs, increase efficiency, create confidence, and drive success of planning, implementation, and optimization of Infor's ERP & Birst solutions. With core competencies in finance, supply management, human capital management, and IT, ROI is able to create and understand the value of business transformation through the use of Infor technologies in a way that aligns with clients' mission, vision, and values.
Our HIS Practice
ROI focuses on managing, implementing, and improving clinical, revenue cycle, technical, and reporting systems, such as Cerner, Siemens, AllScripts, McKesson, Epic, and Meditech. We are Best in KLAS in Partial IT Outsourcing with a score of 95.7. We are a Cerner Preferred Collaborator with multiple resources going through the Revenue Cycle certification process. Our core offerings center around project management, legacy support, application management/shared services, data migration/extraction, and decommissioning services. Our proven methodologies are applied to create smooth transitions of people, processes, and systems for healthcare providers across the country.
Visit us at https://roihs.com.
Press Contact: 
Danielle Watson – VP, Marketing & Sales Operations
danielle.watson@roihs.com | 687.270.2867