Two Thumbs Up for Inforum 2017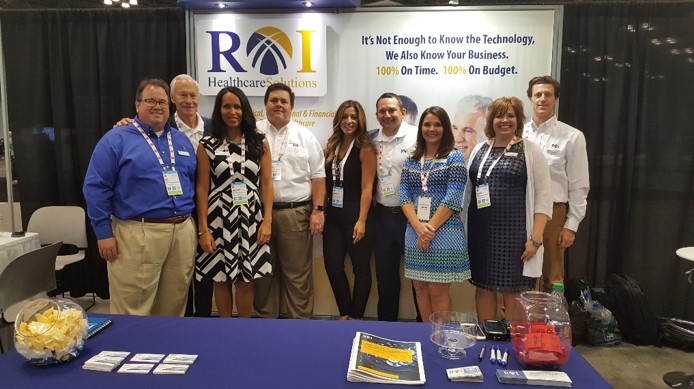 ROI truly enjoyed spending time with clients, prospects, partners and peers at Inforum 2017. We are passionate about the Infor CloudSuite solution and its powerful capabilities to change healthcare as we know it. If you are contemplating your path toward CloudSuite for your ERP functionality, ROI is here to guide you through it every step of the way. You can contact Jenny Mattson with questions.
Optimal Blend of Functional Skill, Infor Expertise and Partnership Mentality
Most organizations agree that process automation, back-office integration and real-time analytics can improve how they do business, reduce manual efforts and enhance the quality they provide to those who depend on their services and products. Unfortunately, not all implementations of Infor's ERP solution offer the same benefits. The operational and financial success of any organization comes because of optimized processes, well architected and configured Infor technology, seamless integration and a project team who possesses the right mix of functional and IT experience.
Year after year, ROI connects with clients and prospects actively looking for a partner whose team possesses the right blend of experience, flexibility, technical acumen and personality to help them achieve their goals. Common challenges we routinely hear are:
Manual processes impair key business functions, such as processing accounts payable and payroll causing delays in financial closing and data-driven decision making
Lack of visibility into business analytics makes room for "guesswork" and uninformed "gut-feel" decisions
There's a huge difference between a "walking user guide" and an empowering consulting services firm that can support self-sufficiency once projects have been completed
Poorly managed project implementations in the past have created fear and apprehension within the leadership team; missed deadlines or lack of risk management created technical and process obstacles that delay the realization of benefits
Uncertainty about how to get the most out of an Infor ERP solution, considering recent version changes and variations across on-premise vs. cloud platforms
Supply Chain costs are difficult to control expected and EDI transactions and other automations are not fully utilized requiring significant manual correction
Eight of Our Leaders Attended Inforum, with 130+ Years of Collective Infor Experience
Reach out to ROI prior to Inforum 2018 to connect with one or more of our team members. We're eager to get to know you, your challenges and vision for your Infor's ERP solution so, together, we can help you drive success. If you're an existing ROI customer, we look forward to spending special time with you regarding your needs for optimization, upgrade, and transition to Infor Cloudsuite. Once we are assigned a booth number, please share our booth information with your peers! The more, the merrier. Inforum 2017 attendees were:
Our Hub Session Will Be Focused on Analytics
Our very own Ben Hougland will deliver a targeted presentation to healthcare leaders with a focus on achieving operational, financial, and technology success and innovation by leveraging the right level of business intelligence and analytics within your Infor implementation. Every organization is unique in how it relies on technology, falling at various points in the BI maturity model. Some rely on canned reports; others prefer customization; and others build robust solutions that aggregate information from multiple data sources. Don't miss this valuable session with Ben.
In addition to our core Hub session, we're planning an additional group discussions pertaining to supply chain efficiency, project management tips, and Cloudsuite success at our booth. Stay tuned for more information regarding these discussions.

Schedule Time with ROI Healthcare Solutions:
If you can't make it to Inforum, but would like to connect with ROI, please call or email us with your interests and availability: 678-270-2867 or info@roihs.com.